Updated June 25, 2011
This is the official home of Don Vogt and Audio Farm Productions, located in scenic Bath NH, USA, offering professional live sound, public address, recording and production services.

Please take the time to explore and enjoy this site as it is a work-in-progress and consumes countless hours. Many pages are still evolving or are yet to be created. The mission is simply to promote my own works and those of others who are somehow linked to me and my interests.
Latest Website News:
Upcoming events: Hayseed Festival in Franconia July 16th and the North Haverhill Fair July 27th thru July 31st
---
AFP Returns to Lisbon Vintage Snowmobile Race
January 10, 2011

The Lisbon Stump Jumpers Snowmobile Club is gearing up for their 4th annual Vintage Snowmobile Race on Saturday January 29th, and Audio Farm Productions will be there again providing main PA services. The action begins at 10 a.m. just north of Lisbon, NH on Route 302 with the same great divisions of racing as last year, plus, the addition of an exciting new youth class! Watch as racers from the ages of twelve to seventeen years get their chance to pound it out on the track. This event is growing so fast and attracting so many sleds that the Stump Jumpers are cooperating with New Hampshire Motor Speedway to bring another great new feature to Lisbon: electronic scoring! That should give this year's announcer, Dick Therrien, who is well known in the local racing circuits, plenty to talk about. In fact, AFP predicts that these two exciting changes will help attract a record crowd. So don't miss out on any of the action that is sure to please. The Lisbon Stump Jumpers 4th annual Vintage Snowmobile Race in Lisbon New Hampshire on Saturday January 29th. BEEE THERRRRRE!!!
AFP Presence Heard At Lisbon Lilac Time
May 29, 2010
When the call came in from Chris Cate, Audio Farm Productions was glad to lend a hand to this year's Lilac Time Festival in Lisbon, N.H. The problem was the distance from the parade announcer stand to the gazebo where the Cates perform with the Parker Hill Road Band and where their PA is set up. Of course, long distance can cause appreciable signal loss due to cable resistance, especially in the upper frequencies, and then there is the problem of laying mic cable out under foot...The solution? Borrow a couple wireless Shure SLX Beta 58 mics from Audio Farm Productions to bridge the gap and make announcers Chris Cate and Phil Rivera look good, at least from an audio perspective. A brand new but defective mic cable threatened to foil the plan, but once that was discovered the set-up went off without a hitch, unbeknownst to the many that attended. Some great classic and muscle cars in the parade for those that have never been. The grand finale? A nice Italian sausage with peppers and onions...YUM! Oh, and there's plenty of great music and lots else to see, so don't miss the annual Lisbon Lilac Time Festival in Lisbon, N.H.!
19th Annual Cottage Hospital Variety Show
April 10, 2010
Another year, another success story for the Cottage Hospital Variety Show now nineteen years strong. This entertaining little event started out as the hospital's own talent show, but due to a lack of talent, according to the forefathers and historians (laughingly), was quickly turned into the variety show it is today and includes much local community participation. This year saw the return of Michael Kennedy and his musical, singing saw, Betty Messer the yodeler, Gabe Fagan piano prodegy, the Newbury Jumping Beans with their jump rope routine, and performances by Leah Cate. Rounding out the evening were such acts as the bluegrass music of the Sugar Hillbillies and the Back Shed String Band, dance and cheer routines by the Blue Mountain Union Cheerleaders, a vocal and piano performance by Archie Steenburgh and Councilor Raymond Burton, David Heintz performing magic with the help of some audience volunteers, and a modern dance routine by Samantha Singer. Noticably absent were the Cottage Hospital Comedy Board, a retro Hee-Haw type skit that involves staff opening and closing little doors in a wall to offer up some creative and funny one-liners (a favorite of mine), and a grand finale performance by hospital staff, although there was a 'Flu Stinks' YouTube video showing of the impromptu Cottage Hospital Band.
Most of the sound production for the Variety Show is provided by the Cate brothers, Chris and Tim, of the bluegrass Parker Hill Road Band. Chris hangs out backstage and handles microphone set-up while Tim spends his time at FOH running sound through their powered Carvin C1644 mixer. Loudspeakers are an assortment of EV, Carvin, and Yamaha boxes and the mics used are generally AKG C4000's, some SM-58's and an Audio Technica AT4040. For my part, I bring a couple professional Denon DNC-635 CD players and my Shure SLX wireless handheld systems with Beta 58 capsules. Oh, and the occaisional lifesaving Countryman DI. I have also recorded some past performances off the board to an Alesis Masterlink while capturing the room/audience on my Tascam DP-1 field DAT recorder, which I later put together on the SX-1 production console.
I'm always impressed with the amount and level of local talent that the Cottage Hospital Variety Show brings out as well as the community support that never fails to fill all the seats in the recently renamed Dr. John A. Bagonzi Woodsville Community Building. The Cate brothers and hospital staff are always a pleasure to work with and we comment regularly, or at least annually, on how quickly the time flies by between shows and how fast each one comes to an end. And so I will continue to lend a hand for whatever sound production is needed each year like clockwork and hope that this show that is so rich in local culture continues to entertain our little community.
Follow the images link to the pictures of this year's show or click on one of the images above. Unfortunately, in an effort to less blind the performers this year with the spotlight, there was not quite enough light on stage for many of the pictures I took from FOH and so they came out a little dark. Looks like I'll be adding my stage lighting to next year's contribution. See you there!
Linny Kenney - The Ride
February 28, 2010
How many licks does it take to get to the center of a Tootsie Roll Tootsie Pop? Hmmm...tough question. It's one of those age-old mysteries that you could only answer if you were willing to over-exercise your licker. Here's another one - how long would it take to go from coast to coast while riding a horse? I can't tell you that either, and since I do not have the patience for the former, I definately would not attempt the latter, but there is a young lady who might be able to tell us, that is, if we can wait a few months for the result. Here's the headline:
New Hampshire girl turned singer/songwriter living in California embarks on cross-country horseback trip to return to the White Mountains. Story at eleven...
I first met Jacqueline "Linny" Kenney, known more dear to me as Jackie, at the Cottage Hospital Variety Show while working with Chris and Tim Cate on sound production. She was arguably the star of the show for many years and was unofficially dubbed our American Idol by former event director, Cindy Fagnant. Sharpening her vocal talents on theatrical music, she later picked up the guitar in order to provide her own musical accompaniment. I remember her performance one year as a solo act with guitar, singing and playing her own compilations. Within the intimate setting of the Woodsville Community Building, she commanded the stage and mesmerized the audience, sounding as if she was crooning to a lover or a small child. It gave me the chills and I have not forgotten that sound or that feeling since. Eventually, Linny joined forces with her sister, Caitlin, to create chilling harmonies and melodic duets. I have several recordings of their Variety Show performances, mostly of Linny, but also a favorite one of Caiti singing a theater tune on which her voice sounds especially sweet. Those are safely locked away for now...
Having spent some time in different parts of the country and the world, Linny and Caiti currently reside in California where they continue to write and perform music with their band. They have also recorded a new album that will be ready for release shortly. In the meantime, Linny is travelling across America with her horse, Sojourner, to see the country and collect stories of human inspiration. She will periodically be relating her adventures through her blog, and I suspect that plenty of original music will come out of this trip. She intends to perform at several locations along the way, possibly with her sister, and again when she finally reaches New Hampshire, although as she says, plans are changing daily and so you will have to follow her progress through her website and blog for more information and updates. Wanting to get back together with Caiti and the band afterward, she will be looking for them to go on tour and I expect that Linny's pilgrimage will draw enough attention to get at least a few looks from some headliners.
It will be interesting to see how the news picks up this story as it unfolds and the doors of opportunity that may open as a result. Get the full scoop through linny's website at linnykenney.com or keep up with her news directly at linnykenney.blogspot.com. Follow the links to hear their music and become a fan of Linny and Caiti Kenney on facebook as well. You can even download some of their music from Napster!
Good luck on your trip, Linny...be safe and I look forward to hearing of your experiences!
A Snow Blast from the Past -
The Stump Jumper's Vintage Snowmobile Race in Lisbon, NH
February 10, 2010

Thrills, chills, and spills...if you wanted action...then the Lisbon Stump Jumper's Vintage Snowmobile Race delivered! And if you were not there, well then...you missed it!
It was a blistering cold day just north of Lisbon with temperatures recovering from below the zero mark, but that did not stop the racers, staff, vendors, and crowd of over one-thousand from enjoying an action packed day. There were about one-hundred fifty sleds registered for the show, ranging from the well known Arctic Cat, Polaris and Ski-Doo name-brands to the long forgotten Moto-Ski, Suzuki, Chaparral and Sno-Jet machines, among others. Racing divisions included stock and super-stock single cylinder and fan cooled twin-cylinder modifieds. There was even a powder puff and over age fifty class. The action ranged from sleds spinning out to beating and banging in the corners as well as plain-old hard racing. One machine got tangled in the rope fence on the front stretch and pulled about one-hundred feet of it down as the crowd back-peddled. Another set a bale of hay on fire from its exhaust when it crashed into the barrier by the start/finish line. Turn four was another great spot for excitement as drivers climbed higher and higher on the bank, relying on it to turn their sleds through the corner until they knocked the banking down, and most divisions could not even negotiate turn one on the first lap without several of the participants flipping over.
On the audio side, the needs were simple – get as much sound as possible to cover the crowd from the announcer booth toward each end of the track. The problem, though, was that the distance to the turn four end from the start/finish line must have been somewhere close to a hundred yards, which presents some physical limitations, so my goal in this first year of providing PA for this event was to broadcast a louder and cleaner signal than what had been done previously. Bob Nelson, a familiar voice in the local stock car circuits, did a great job calling the races using a single Shure SLX Beta-58 wireless system run through some soft-knee compression. The EQ was rather generous in that it was required to ring-out the system because of running it so hot. For loudspeakers, I used a single JBL SRX 722 powered by Crown amplification on a platform at each end of the announcer booth pointed toward the turns. They did a great job of pushing sound down the lines although it was hard for them to compete with vehicle and snowmobile noise at the farthest distances, but that is just physics. Next year I plan to overcome the distance factor by placing loudspeakers around the booth as well as halfway down the track if I can protect the loudspeakers and the cabling from spectators and vehicles. To cover the area behind the booth, I was prepared to run a couple 712's but the 722's were so loud that no extra coverage in that area was needed. One thing I did learn was just how obstinate cabling can be when it is freezing cold!
With only three seasons under their belt, the Stump Jumper's Vintage Snowmobile Race in Lisbon is growing quickly in popularity and now I can see why. It is a great event that is packed with entertainment and racing excitement. I look forward to the opportunity to participate next year. Follow the images link to see the pictures and some of the video I took of the action, and for more information you can always check out the Lisbon Stump Jumpers website.
Why?
January 31, 2010
Why do some people live to be over one-hundred while others do not make retirement age, or adulthood, or even childhood?
Why is it that you can live with a loved one who is doing well in their fight against cancer, and hear that loved one tell of their friends who are also actively fighting cancer, seemingly doing so well, while you hear of others who are not so fortunate?
Why do bad things happen to so many nice people?
I like to think of myself as a nice person, at least on the outside...I can be helpful, supportive and giving in my own way, and I could name many people who hold that opinion of me and would vouch for such if queried, but I know I am not the nicest person in the world. I have my own demons, fears and anxieties of which you might discover once inside my inner circle of personal space, yet I am still here...and as I travel through life my path will sometimes cross with people who I believe actually are the nicest people in the world, people who I would never guess have any demons at all, but are pure and sweet and kind no matter what and no matter where.
I'm sure you've come across people like this yourself. They might be friend, family or loved one. Perhaps they are just the mother of a girl with whom your own daughter has shared a classroom since kindergarten. Maybe you do not know them well, but when you see them on occasion their smile gives them away and you wish you could be that kind of person - so wholesome and unpretentious. Maybe you even wish for a time that you could know them better.
When I hear of the passing of someone like this I have to pause and shudder. Perhaps you do as well, for although they may not be close to you, it is an event so undeserving that it feels as though the fresh has left the rose, the blue has left the sky, and the good has left the Earth...and we ask ourselves...why?
Thoughts and prayers to the family of Heather Poor...
Audio Farm Productions at Vintage Snowmobile Race
January 17, 2010

Audio Farm Productions to provide main PA for Lisbon Stump Jumper's 2010 Vintage Snowmobile Race on January 30th. Events begin at 11:00 am. Races will be announced by WLTN's Phil Rivera. This annual spectacle is quickly becoming very popular and has grown rapidly in the last three years. It draws many entries from out of the state as well as from people who simply buy an old sled just to run a race for the first time. Divisions include classic one-lungers and vintage twin-cylinders. Grand prize is $1,000! Catch all the action on the fields just north of Lisbon, NH on route 302, then look for news and photos of this year's running right here in an upcoming blog post. Go to lisbonstumpjumpers.org for rules, entry forms and more information.
Some People Are Just Too Valuable -
Eddy the 'Electric' Shaver
January 10, 2010
Many of you may not know of Eddy Shaver. I didn't until the early spring of '96 when I was at the Recording Workshop in Chillicothe, Ohio. I had the opportunity to work backstage for a two-day concert event in town billed as Outdoors with the Outlaws. On day two, a beaten down old van pulled in behind the stage and out spilled four guys all disheveled and in need of a good dusting, clean clothes, and a shave. They looked very much out of place, as if they had just time-traveled by pressing the random destination button, and now, here they were.
I found out the more mature of the bunch was Billy Joe Shaver, a Johnny Cash era, rough-hewn, retired bar-brawling singer who had long since gone grey and looked as though he would be more comfortable in a rocking chair than up on stage. He was accompanied by his band-leader and rock-star son, Eddy, a rounded diamond-in-the-rough, hinting of Lynyrd Skynyrd's Gary Rossington and complete with unbuttoned shirt and cowboy boots, the heels of which were so high they appeared ladylike; I couldn't see how he even walked in them! Eddy had emerged with a permanent grin and milled about like an anxious male diva who had just arrived in an unfamiliar city and was waiting for a crowd to form around him at any moment.
At one point, Eddy went back to the van, pulled out a guitar and then just handed it to me. It was an old, sunburst-colored Stratocaster that should have been relegated to kindling wood. The varnish was well worn off between all the frets and what was left of the body looked as though it needed to be thrown away. I'm pretty sure there was some rust on it somewhere as well. To say that the instrument had seen better days would only be another scratch on its surface, and I thought to myself, "Man, you came to a gig with this?!", but I held on to the supposed scepter because I was told to; this guitar had become my charge by order of some mysterious minstrel and I was just a stagehand, so who was I to argue?
With nothing else to do at that moment, I sat down and strummed a couple bar chords. I didn't know what to make of the situation. Was I being treated like some kind of servant, or was this his idea of privilege? The only thing I could be sure of was that this instrument was very important to him, too important for it to be left alone. When he took it back, he put a fancy leather strap on it and wore it like he was an Honors graduate. I simply faded back into obscurity.
When Shaver finally took the stage, there was some genuine applause from the crowd and then they broke into song. I remember the first tune as being nothing special, sort of traditional country-blues with a cookie-cutter melody and not much energy. Eddy didn't even play the Strat for the first couple songs, opting for acoustic instead, and I was amused at his ineffectiveness. I might have yawned. It was the third or so song, however, when everything changed.
I was watching from behind the stage, looking at the backs of the performers. Eddy's relic of a tube amp was facing my direction (a trick used by sound pros to help control stage volume when someone plays really loud) with nothing between us but one faithful SM-57 pointed at its speaker cone. With Strat in hand, Eddy cut loose, first owning the rhythm and then topping that off with the most natural, born-with-a-guitar-in-my-hands-while-I'm-smoking-a-cigarette-and-loving-myself-while-you're-loving-me blues. I don't think Jimi Hendrix or Stevie Ray Vaughan, rest their nimble fingered souls, could hold a conflagration to the feel that Eddie Shaver demonstrated that day. Man, could he make that piece of scrap wood sing! He didn't just play the guitar – he was the guitar, and he made any sound he wanted. To say I was blown away would be too indifferent; I should just stop writing here and leave some blank lines of silence in tribute... While Billy Joe sang his anthems a-la George Jones/Willie Nelson and stood at the mic making some fist-fighting motions in the air, Eddy kept leaning into his guitar, adding as much of his own flavor as he possibly could without completely taking over the song. The crowd loved it and so did I because all that pure, sweet tone was flowing straight into my ears like delicious candy. It was a perfect fit - father and son trading the spotlight with a naturalness and trust that could only come from the bond of blood. I can say with certainty that Shaver was the highlight of that concert weekend.
About four years later that memory crossed my mind again, so I made use of a cool new computer feature called a "search" and found an astonishing fact. I queried Billy Joe Shaver and came across an article that claimed Eddy was given a guitar by Dickey Betts of the Allman Brothers Band. It went on to say he sold that guitar to help finance his solo album endeavor at the time. I was stunned. Thinking back to that day, I have to believe that the guitar I held was the same one given by Betts! Eddy had bestowed upon me the momentary honor and privilege of that guitar, knowing full well I could never play it better than he, and so I must bow. I wish I could find him on the web somehow, just to send him a message saying, yes...I know...I get it now...and thank you!...but, sadly, at the time of this writing, I "googled" his name once more and found another astonishing fact about Eddy - he is no longer with us. Like the late, comedic great, Mitch Hedberg, some people are just too valuable to be entrusted to us here on this Earth, and so they are taken away to a safer place, as if artistic stones of preciousness. You've seen this movie before, a proverbial "candle in the wind" story, but I will not spoil the ending for you completely, so if you appreciate the arts at all you'll want to do your own search (look for such visual artifacts as the boots and the guitar) and experience the story that is Billy Joe and Eddy Shaver – they truly are American originals.
Ben Tolosa - Actor and Wannabe Filmmaker
January 3, 2010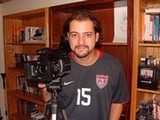 Ben Tolosa is a co-worker at Kendal and a 'really good guy'. He has become a student of filmmaking and I enjoy conversing with him on that subject and especially as it relates to audio because he speaks so passionately about his interests. I've learned now that he has acting credentials as well and so I am sure that will become a topic of discussion. I think he is related to Antonio Banderas but I'm not sure... I look forward to a film short from him sometime soon. Follow Ben Tolosa and his filmmaking adventures at: wannabenfilmmaker.blogspot.com.
To Blog or Not to Blog in 2010
January 2, 2010

HAPPY NEW YEAR TO ALL! This year I am finally catching up to the 21st century by joining facebook and starting a blog. To put this in perspective, I still do not own a cell phone, unless you count the Tracfone I use for emergency purposes, and even that is a year-old Christmas present that stayed unopened in the package until very recently. This is not to say that I am behind the times, I have, in fact, legally downloaded a couple songs by Lady Gaga, I just don't jump onto bandwagons and I like things to prove themselves before I can find value in them and concede any loyalty. For me, blogging will be a way to connect readers with the personality that is myself and therefore that of Audio Farm Productions, an element that would otherwise be missing by simply viewing a website.
For now, thanks to all the supporters, friends and clients of Audio Farm Productions. I look forward to new and continued relationships and opportunities in the coming year. As always, I'm interested in comments, feedback, and such from the global village, so feel free to drop a line! Best wishes for health and happiness to everyone in 2010, and remember to check back in case I've written something interesting by accident!
Don
Be on top
of Google!

Your ad here -
contact Audio Farm Productions